If you know me or if you live here in South Carolina, you may have heard about the miracle God performed in the life of sweet Cohen McGowan just over two years ago.
You can read more about Cohen here or by enlarging the article above.

Being a part of Cohen's
first concert
, before his birth, and the one-year celebration concert last winter, I have been tremendously moved by God's ability to change lives through healing this one little boy. Just witnessing it indirectly has affected me and our family - strengthening our faith, moving us to pray for others in need and inspiring us to live out God's plan for our lives.
Knowing that, you might understand why I feel compelled to pray for another sweet little baby named Cohen. Like "our" Cohen, he has been diagnosed in the womb with some very serious conditions. And as in all of our lives, we are confident that God is at work here.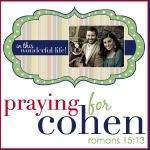 Cohen's mom, Megan, is in her third trimester; she writes with such a joyful heart about carrying him in the face of uncertainty and walking through this situation with faith. I have been following and praying, but thought that you might like to do so as well.
You'll notice the button on the left side of my blog; feel free to add it to your blog by visiting Cohen's mom's blog
here.
The verse referenced in the Praying for Cohen button is:
"May the God of hope fill you with all joy and peace as you trust in him, so that you may overflow with hope by the power of the Holy Spirit."
-Romans 15:13

He
is
the God of hope, no matter what we're going through. I hope that sharing a little blog love will keep baby Cohen's parents encouraged and reminded of that very fact.