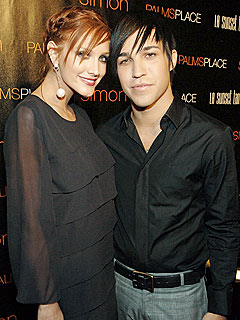 Straight from
People
: Ashlee Simpson-Wentz, 24, and Pete Wentz, 29, welcomed a son Thursday night. Little
Bronx Mowgli Wentz
was 7 lbs. 11 oz. and 20.5" long.
I had hoped to discuss potential names
before
the first Simpson-Wentz spawn arrived, speculating wildly on what sort of crazy Hollywood and/or traditional Southern family name Ashlee and Pete would concoct for their firstborn.
Hats off to the proud parents, though, because Bronx Mowgli surprises even me. Did they want to honor a romantic trip to NYC nine months ago and acknowledge the powerful role
The Jungle Book
played in their childhood libraries?
I'm really reaching here, folks. Someone please help me understand!!
Congratulations to them, of course, and hugs to older sister Jess, who may have believed she'd be covered in babies and celebrating her fifth anniversary by now. Sigh.
Babies are a blessing, for sure. I truly hope, though, that
Bronx Wentz
goes to a private school in LA surrounded by Moses and Apple Martin, Sunday Rose Kidman Urban, Honor Marie Warren and Shiloh, Maddox, Pax, Zahara, Viv and Knox Jolie-Pitt. Should wee Bronx's family they ever move elsewhere he'll need to take some karate lessons to emerge from public school unscathed.