Why else would she inject her playful sense of style into so many Tiger-friendly pieces? And put them on sale, to boot!
I am practicing self-control (hear that, B?) and not clicking "Buy," but that doesn't mean
you
should do the same. Tailgate season is just around the corner - 72 days, if you're counting - and, in case you haven't heard, orange and tiger stripes are
always
in fashion.
Striped Kay top
Worn with orange accessories, obviously.
This pattern is also available in a dress, an adorable jacket and several bags!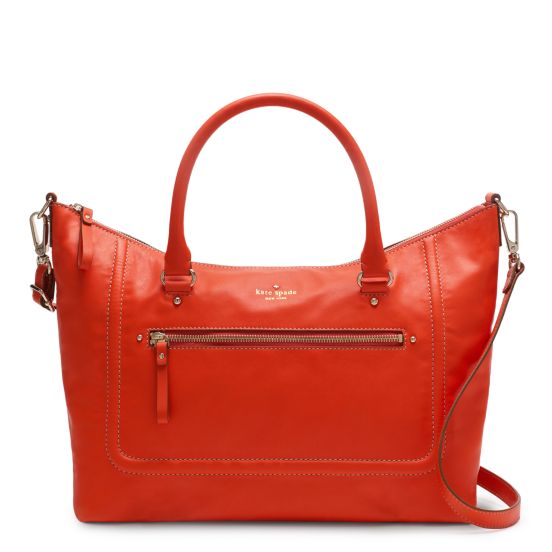 Mott Street Riley bag
In the runner up category, Kate has several sweet coral (not
quite
Clemson but totally acceptable on a hot game day) pieces on sale. I particularly love the
Terrazzo Audrey
dress,
Terrazzo Sandra
skirt and
Villa Pineapple
top. Happy shopping!
Side note:
I couldn't help but notice how much the model above looks like Bryce Dallas Howard. Then I remembered
the actress
is the star of Kate Spade's first celebrity campaign. I guess they're doing a bit of typecasting in their product photos? Gorgeous, no matter who she is! My mom is a redhead, so I've always been a teensy bit partial - and I love to see redheads rocking orange.