It's been years, but I still haven't recovered from the
retiring
of American Girls' Victorian beauty Samantha. I take heart, though, in knowing that another charmingly upper crust brunette doll is on the horizon: the Kate Middleton/Princess Catherine doll!
So far - and we're pretty early on in the scheme of things - we have two top contenders.
First, the cutesy and oddly accurate Franklin Mint
version
of Will's girl.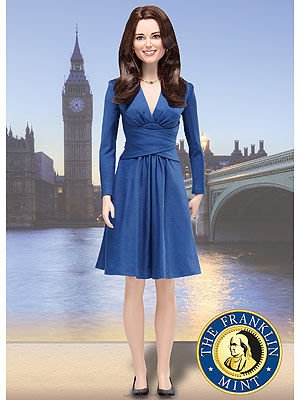 Is it creepy? Sure. Isn't any doll of a relatively normal 20-something girl kind of eerie?
Is it a fair likeness? Certainly. As far as dolls go, this is as flattering a likeness as they come. They got the bouncy hair and fab figure, that's for sure.
Is it expensive? Bien sûr. But if you're a rabid enough royal fan to get this far in the process, you probably won't blink at the nearly $200 price tag.
Now on to our second and, in my opinion, slightly ickier Kate doll option:
For the bargain price of $160, you can receive a wedding day Princess Catherine doll complete with a bouquet, tiara and gown identical to those she wears down the aisle on April 29. I guess this means you'll have to wait a little longer to get your princess doll fix, but that's the price you pay for stalker-like accuracy to detail!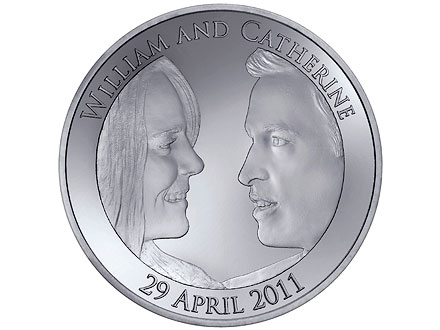 While we're on the topic of Wills and Kate collectibles, can we talk about how
un
flattering the official royal mint
coin
of the couple is? Sure, Will looks passable, but Kate's profile does the real life beauty no favors.
Good thing the girl's too gorgeous to care. And if she does care, I'm sure a glance at her future digs, left hand and adoring
fiancé
will fix her right up.
So, ladies, who will be stocking up on Princess Kate goodies?
And how funny would it be if one day a thoroughly modern princess-to-be decided to turn down the title and instead go by Kate Middleton-Windsor? (William was enrolled in preschool as William Windsor, after his royal house's name. Not a bad surname, but who'd turn down the Royal Highness gig?)